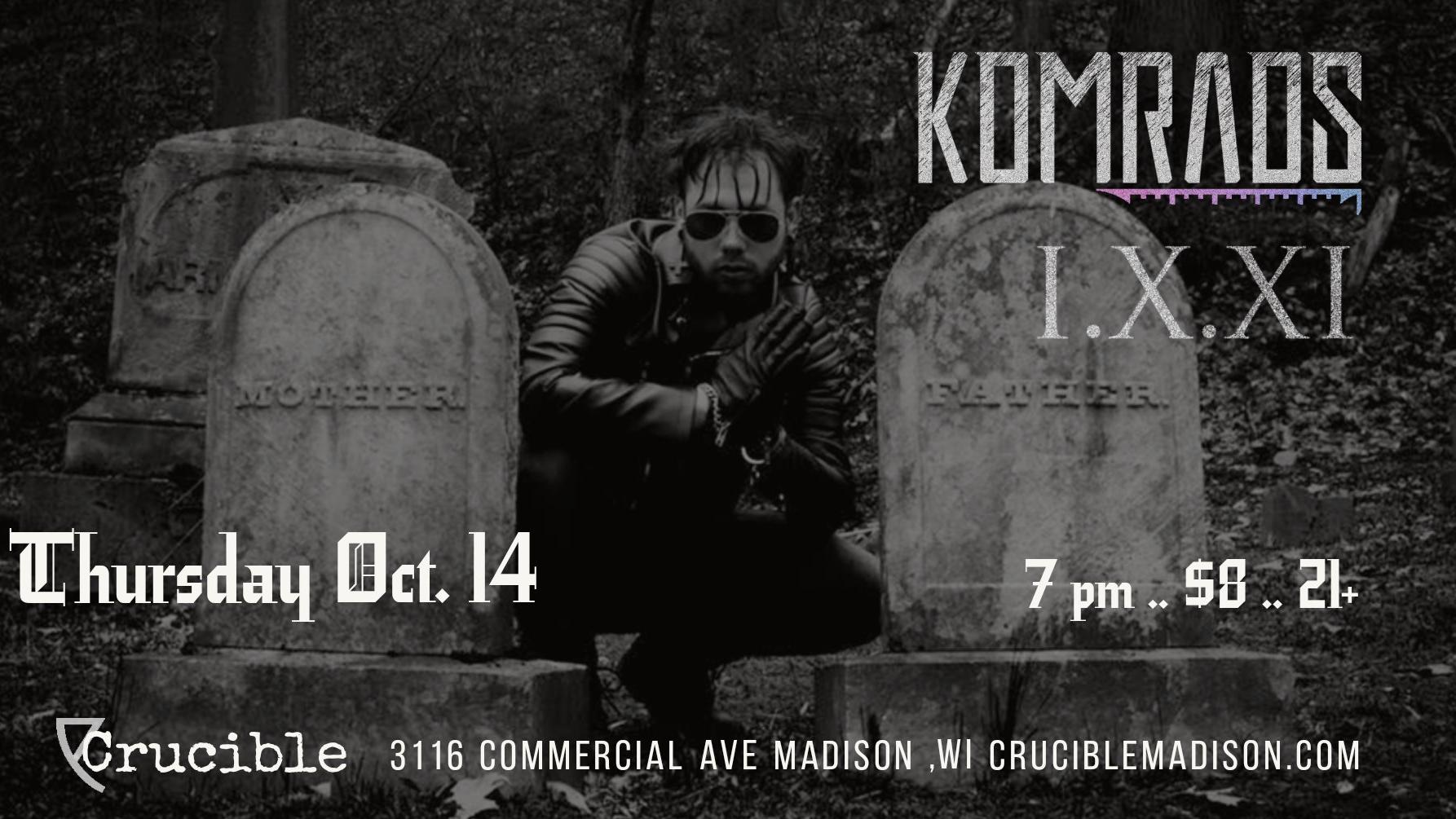 Crucible is pleased to welcome NY's Komrads for a night of industrial darkwave, with local support from I.X.XI.
https://www.komradsmusic.com/
https://ixxi.bandcamp.com/releases
Komrads was formed in late 2014 in Rochester, NY by founding members Zach Burnett, Jesse Hellstead, and Sam Langley. The group set out to fuse their long standing affection for punk and early darkwave/post punk. Their first experiment entitled "Hail" was released in 2015 on Wicked Squid Records.
Over the next two years the group would tour the northeast and midwest opening for acts such as Skeletal Family, Marian Hill, Psyclon Nine, and Hank and Cupcakes. It was also during this period when Joe Sexton, joined the outfit and expanded the group's live visual experience. In the Spring of 2017 the group returned to the studio to record their sophomore release entitled "Resistor" with engineer/ producer Josh Pettinger at Wicked Squid Studios. The album was later mastered by Grammy award winning mastering engineer Brian "Big Bass" Gardner. The record was self released in May of 2018.
In January of 2019 Jesse Hellstead and Joe Sexton amiably parted ways with Zach who was since then been the sole member of Komrads. Choosing to remain as a solo project, Zach decided to take the project into a much more aggressive direction by incorporating industrial and ebm influences. This same year Zach toured extensively as the opener for Skold, Echo Black, and The Russian White. As well as touring solo and sharing the stage with Suicide Commando, I:Scintilla, Pigface, GosT, and Panic Priest.
Early 2020 saw a split 10" vinyl with Jamestown, NY industrial artist STCLVR. This was of course followed by the Covid-19 Pandemic. After several cancelled tours and a future uncertain, Zach set off to work on the follow up to 2018s Resistor. By mid 2021 Zach had finished the new album titled "The Wolf" and signed with Negative Gain Productions to release the album August 20th, 2021. Komrads will be supporting the release with multiple dates across the U.S. and plans for Canada in 2022.