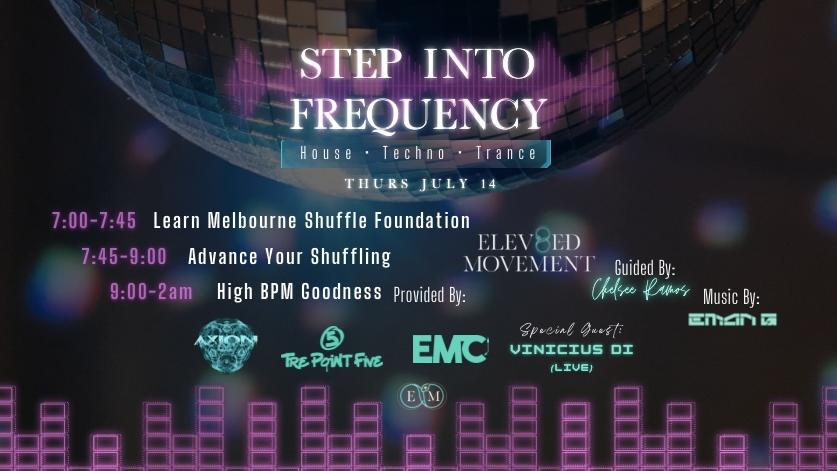 Step Into Frequency
Returning Thursday 7/14/22
A night fueled by high BPMs
And plenty of Elev8ed Movement
From 7:00-7:45 a Melbourne Shuffle Foundation Dance Class will be guided by Chelsee Ramos for anyone wanting to learn to step to their favorite music or just wanting to move their body and try something new. The focus being to connect more with the music, our bodies, and the people around us.
From 7:45-9:00 there will be a class for more advanced shufflers to continue the expansion of their craft and depth of their flow. The class will be intuitively led and catered to the energy in the space that night
We will have Eman on the decks for classes
Anyone from the first class is encouraged to stay, have a drink if you'd like, and maybe watch a bit of the advanced class. We can learn so much from experiencing one another in a learning environment.
From 9-2am use what you learn to explore and enjoy ranges of house, techno, and trance music from an assortment of talented artists
Axion
Tre.5
Eman
And special guest from Chicago:
Vinicius Di Live
$10 for intro class
$15 for advanced class
$20 for both
$5 cover after class
Come hang out with the growing, warm community that has been attracting into this movement. We have a lot of fun together, learning, growing, and expressing ourselves!
Let's get Elev8ed See you soon!