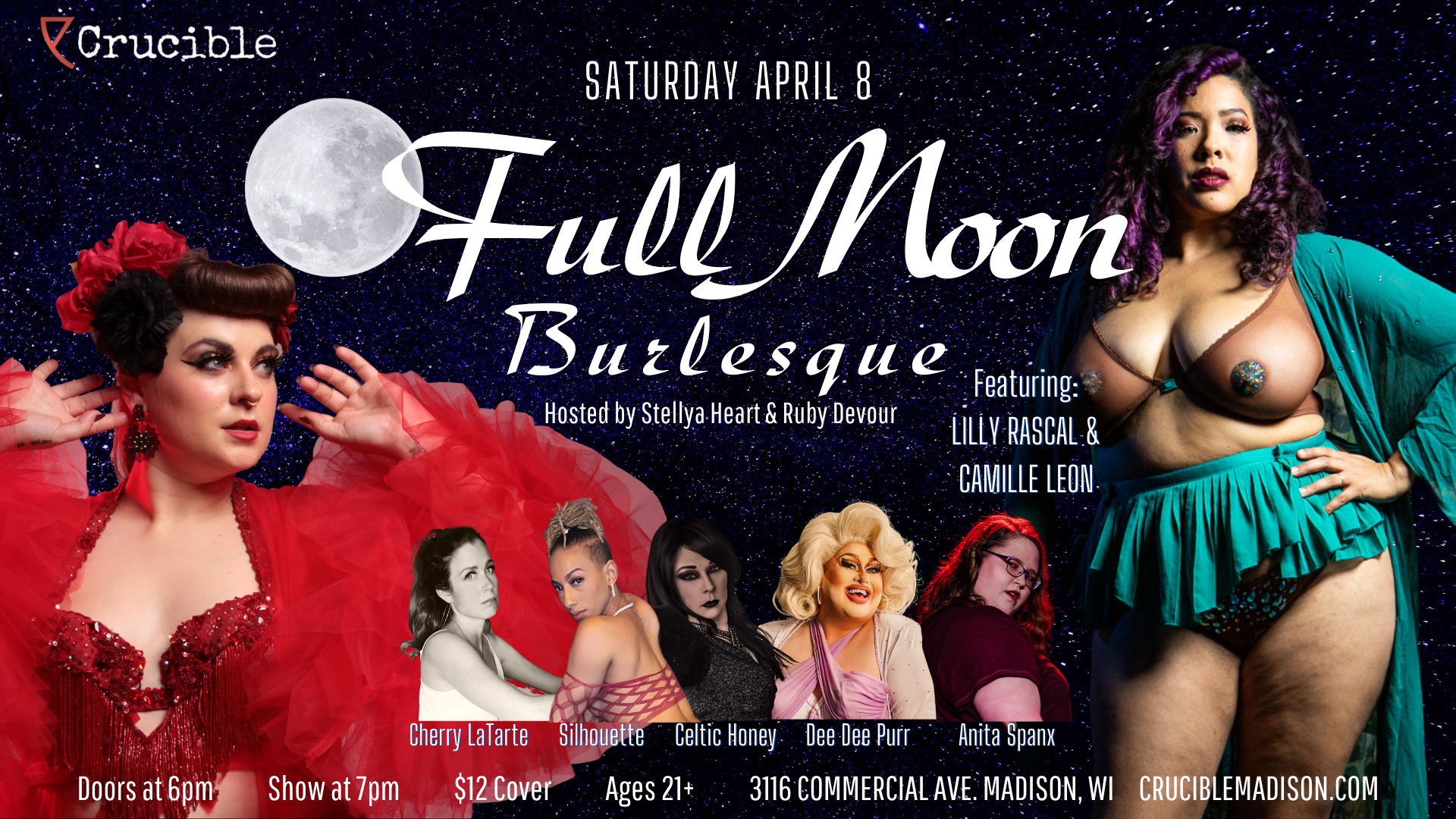 Ruby Devour and Stellya Heart present Full Moon Burlesque, a 90 min BURLESQUE show featuring experienced local and regional performers. A burlesque spectacular with performances ranging from classic to comedic, and all the way to kinky. Sure to bring you a breathtaking, brazen, and bootylicious night out.
Join us at Crucible every second Saturday of the month, doors at 6pm, show at 7pm. $12 cover, tipping encouraged. 21+ event. Tables and seating are not reserved, first come first serve.
 
April features 2 special guests from Chicago!  Camille Leon and Lilly Rascal are joining us from the windy city for one epic night.  We're honored to have not one but two of the best burlesquers in Chicago here for one show.  With over 30 years of combined performance experience these two entertainers will leave you awestruck and wanting more.  With great pleasure we invite you to revel in pieces from this month's entertainers:
Anita Spanx
Dee Dee Purr
Silhouette
Celtic Honey
Cherry LaTarte
Camille Leon
Lilly Rascal
Lilly Rascal is Teaching!!  We invite you to join Lilly Rascal at Crucible before the show to learn burlesque choreography with BOAS!  Learn how to use your boa from your fingertips to the floor! Using finger, hand, and arm technique to make the hardest boa moves look effortless. Please bring your own boa to the workshop. To purchase a $20 ticket for this 1 hour workshop please visit 
https://www.eventcreate.com/e/boaswithlilly
Full Moon Burlesque was created to help the burlesque scene in Madison continue to thrive and grow, inspire our community with touring performers, and utilize Crucible's stellar stage.