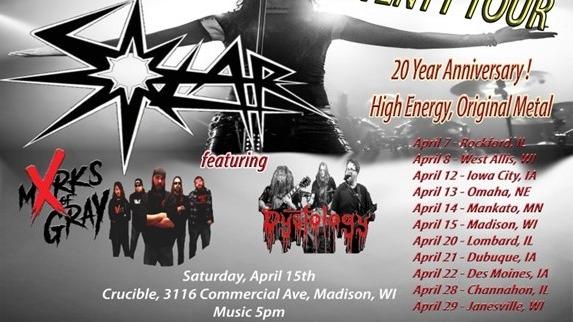 SOLAR TWENTY TOUR!
The first run of Solar's 20-year anniversary tour to cover the Midwest region with Marks of Gray and Dystology along with many supporting artists!
AND re-releasing their original 2006 album on tour!!
Originated in April 2003, Solar has rocked stages all over the United States. The band emphasizes heavy riffs and harmonies that drive home great melodies. Solar focuses on delivering music from the heart that connects with fans through their empowering lyrics and amazing live performances.
Solar - High energy, melodic hard rock/metal with heavy riffs and powerful vocals
https://www.facebook.com/solar815band
Marks of Gray - Melodic metalcore with the brutal groove of metal
https://www.facebook.com/MarksofGray
Dystology - Straight up raw, uncut, heavy metal
https://www.facebook.com/dystology