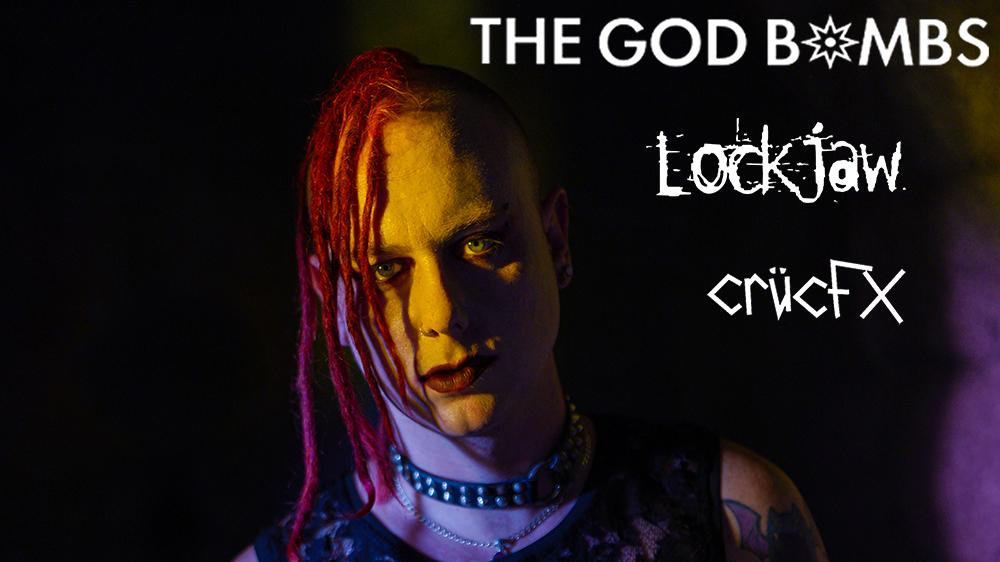 ++ The God Bombs (Los Angeles, Industrial Punk)
The God Bombs are known for their hard-hitting, straight-ahead electro-punk industrial sound. Since forming in 2018, the band has been amassing a dedicated cult following. They've toured North America in recent years, including the Amerikkkant Tour supporting Ministry. Other artists they've toured with include Mushroomhead, Green Jello, The Bunny The Bear, William Control, Psyclon Nine and Tim Skold.
They've also written songs with Marilyn Manson co-founder Daisy Berkowitz, and former Beck DJ and US DMC Champion DJ Swamp. Their popular music videos total over 450,000 views on YouTube.
++ LOCKJAW (Milwaukee Industrial Goth Rock)
Midwest industrial goth legends LOCKJAW are back with a new lineup and release titled the "Annihilove EP".
Lockjaw became a household name throughout the Midwest thanks in part for sharing the stage with national acts including Mudvayne, Type O Negative, Damage Plan, Wednesday 13, Hell Yeah, Prong, KMFDM, Powerman 5000, Mindless Self Indulgence, Lords of Acid and also providing direct support for multiple sold out shows for MARILYN MANSON.
Since starting out in 1998, Lockjaw has released 16 albums to date on Dark Drug records. Their song "Dirty Minds and Smiling Faces"(2004) is featured on the X-Box360 game "Dead Rising".
++ CrÜcfx (Wisonsin Experimental, Ambient Noise)