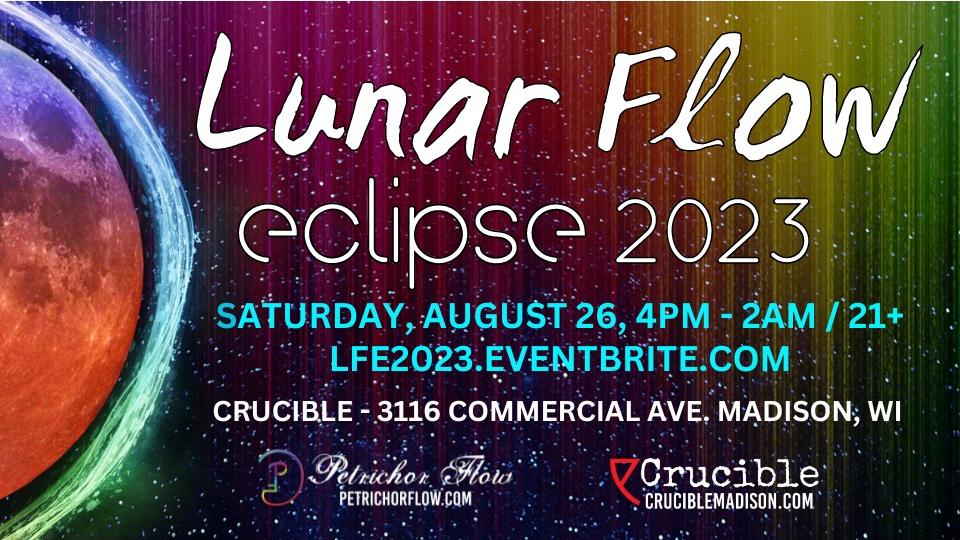 Lunar Flow Eclipse is a celebration of diversity, equality and inclusion through music and the creative arts, flow arts, and circus performing arts. We strive to bring people together to build stronger connections and provide a way to express their creativity in a safe and comfortable environment. Come join us all in a celebration of the creative fire that lives within each of us!
Eight fantastic DJs will be playing house, techno, jungle and drum n bass music from 4:00 pm until 2:00 am at Crucible Madison in Madison, Wisconsin. There will be indoor and outdoor circus, fire and flow performances, dozens of art and food vendors, a sword swallower, a glass blower, fun spaces to hang out in, great drinks and a secret scavenger hunt.
Bring your beautiful flow toys to Lunar Flow Eclipse and come dance and fly with us!
DJs
Megan Hamilton, Minneapolis MN
Jules Scott, Minneapolis, MN
Toyacoyah, Chicago, IL
Diva D, Madison, WI
Miss K Funk, Oshkosk, WI
Murder Kween, Milwaukee, WI
Miz Highlee, Madison, WI
Certified Scruffian, Madison, WI
Performers
Sally Marvel, Chicago, IL
Fox Valley Fire Arts, Oshkosh, WI
Petrichor Flow Babes, Milwaukee, WI
Beatrix Productions, Madison, WI
Rules
• Water filling stations are freely available inside and outside the venue
• Empty Camelbacks and reusable water bottles may be brought in
• No "outside" alcohol, food, or beverages are allowed
• No glass or glass containers of any kind
• No laser pointers
• No markers
• No weapons of any kind. Bags will be searched.
• No threatening signs or apparel
• No large backpacks
• No unauthorized soliciting, handbills, posters, product sampling, giveaways
• No Indigenous American headdresses
• COVID protocols will follow the CDC and Dane County recommendations
• Zero tolerance policy. If someone is making you uncomfortable, please tell security. Any form of harassment will result in being escorted off the premises