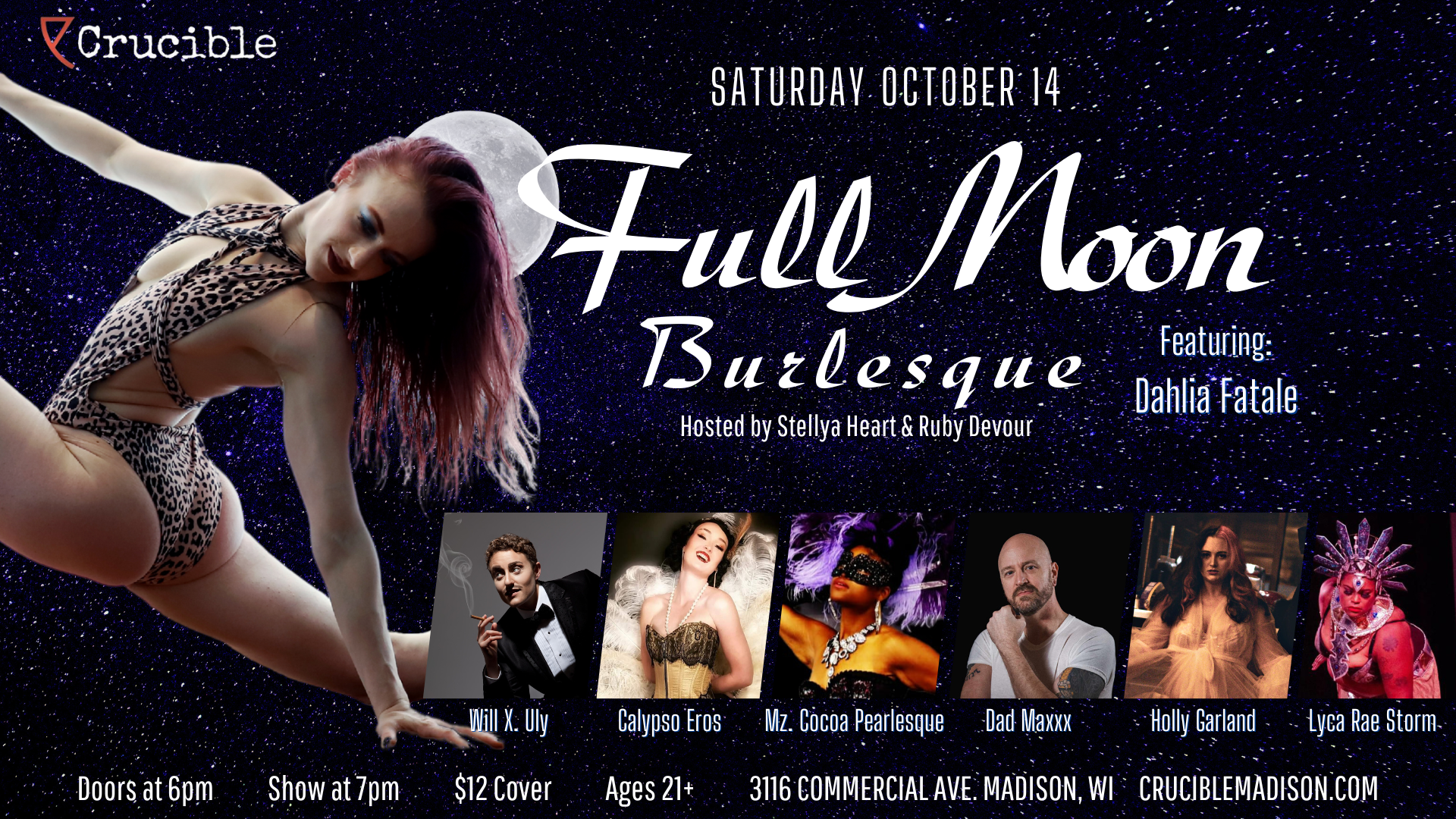 Ruby Devour and Stellya Heart present Full Moon Burlesque, a 90 min BURLESQUE show featuring experienced local, regional, and national performers. A burlesque spectacular with performances ranging from classic to comedic, and all the way to kinky. Sure to bring you a breathtaking, brazen, and bootylicious night out.
Join us at Crucible every second Saturday of the month, doors at 6pm, show at 7pm. $12 cover, tipping encouraged. 21+ event. Tables and seating are not reserved, first come first serve.
October features Dahlia Fatale!  Chicago based and internationally known, Dahlia Fatale has a unique style combining classical dance training with the bizarre, super-human stylings of contortion and the slow-burn seduction of burlesque. She's guaranteed to bend your mind with her body! With great pleasure we invite you to revel in pieces from this month's entertainers:
Dahlia Fatale
Will X. Uly
Mz Cocoa Pearlesque
Calypso Eros
Holly Garland
Lyca Rae Storm
Dad Maxxx
Mz Cocoa Pearlesque is Teaching!  We invite you to join Mz Cocoa Pearlesque at Crucible before the show to learn how to embrace the music and mishaps of performance through improv.  In this 2 hour workshop you will learn musicality, chair work, floor work, and improv dance skills. This workshop is designed for burlesque performers or those interested in trying it one day, but all are welcome. Pre-registration is required for this $25 workshop from 1pm-3pm.  Please DM Ruby Devour or Stellya Heart for a link to the registration website.
Full Moon Burlesque was created to help the burlesque scene in Madison continue to thrive and grow, inspire our community with touring performers, and utilize Crucible's stellar stage.